Want to be part of our next 8 week challenge?
Our challenges are a LIFE CHANGING experience! We don't just help you get results, we give you all the tools you need to transform your mindset,  relationship with food and exercise to make lasting changes!
No matter what your goal or starting point, we can help you find YOUR balance!
Starts Monday 30th August 2021!
Everything you need for the ultimate challenge experience.
Personalised calorie and macronutrient targets

Example meal plan based on your targets

Access to our meal plan builder with 200+ recipes

Weekly shopping list

5 day training program (choose from gym or home based)

Optional HIIT cardio session

Weekly check ins via email

Interactive progress tracker

Daily tracking feature

Daily goal setting & reflection feature

70+ learning modules

Access to our private Facebook community

The chance to win $1000 cash and an epic prize pack including an Optimum Nutrition supplement pack valued at $300, $200 Ryderwear gift card and a $200 Switch Nutrition gift card!
Real women. Real results. Check out these amazing results from our previous 8 Week Challenges.
Real women. Real results. Check out these amazing results from our previous 8 Week Challenges.
MARYAH
Goal: Reverse Diet
"Find Your Balance has honestly changed my life for the better. I'm so glad that I took that first step to sign up for that 8 week challenge. I saw more progress in 8 weeks than I did in all my years of working out and "dieting". I would not be where I am now, mentally or physically, if I hadn't taken the chance with Find Your Balance!"
LIZZY
Goal: Fat Loss
"FYB has changed my life! I now have a healthy relationship with food, I no longer restrict myself from anything and I'm getting stronger by the day. I'm a happier and positive person because of this amazing program and the support that comes with it, just ask my husband & kids!"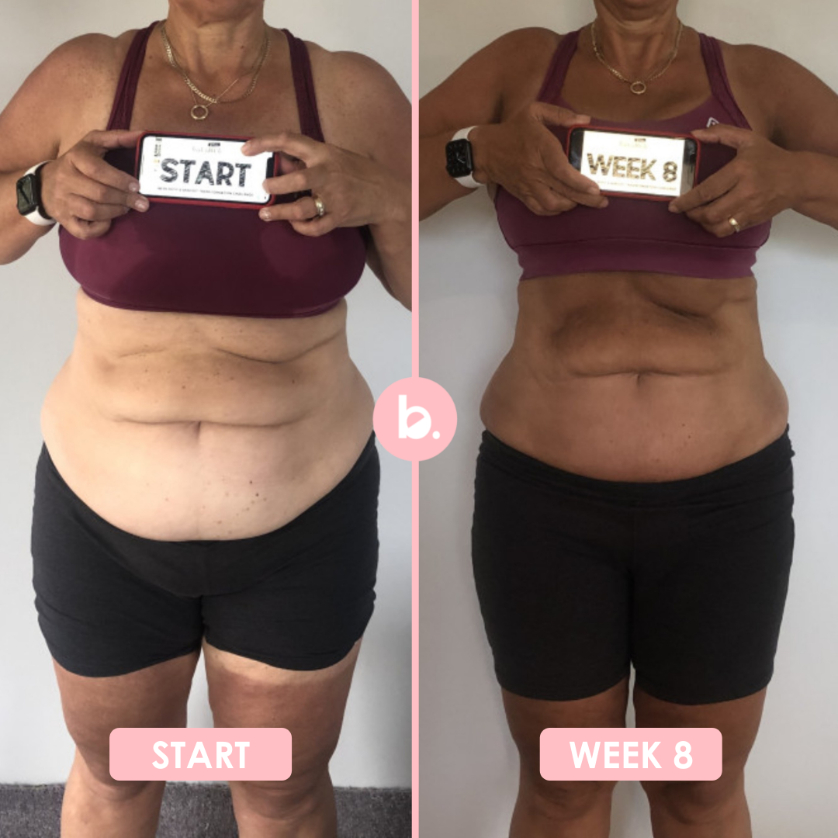 BETH
Goal: Fat Loss
"My favourite part of Find Your Balance is the flexibility in both nutrition and exercise and the amazing community! I've learned to overcome an all or nothing mentality. It truly is about balance. It's changed my health, mobility and fitness, but most importantly it's changed the way I think about food and myself. Life changing!"
JENNA
Goal: Reverse Diet
"This challenge has helped me change my mindset around dieting and realise that I don't need to eat low calories and do loads of cardio all the time to achieve my goals. I used to obsess over it and now I know how to use the flexible diet approach - everything is better, and I don't have to miss out on my favourite foods."
CAROL
Goal: Fat Loss
"I could not believe how easy it was to lose the weight and along with that it became easier to exercise. The education on nutrition has been fantastic. I was so amazed at the amount and quality of food I was able to consume on the challenge. Holly & Alana are so supportive as are the rest of the ladies in the Find Your Balance family!"
CARLIE
Goal: Fat Loss
"The Find Your Balance Challenge has improved so many aspects of my life. Not only have I lost fat, my mental health and clarity and confidence have improved. I have an understanding of macros and calories and why they are important to achieving maintainable fat loss and I am educated about making healthier food and lifestyle choices."
What can you achieve with Find Your Balance?
Fat loss
Lose body fat and lean down while maintaining muscle and eating the foods you love!
Muscle gain​
Build muscle and get stronger while minimising body fat gain.
Reverse dieting
Conquer your fear of food and learn how to eat more while minimising weight gain and improving your health.
Maintenance
Maintain your current weight while improving your overall health and performance!
Imagine what you could achieve in 8 weeks.
Join hundreds of women who have already transformed their lives using our methods!











now available